From June 1st, 2007;

Text from Reuters, Images googled by Borna
PRICES for works by contemporary and avant-garde Chinese artists hit record highs at Christie's spring auctions in Hong Kong on Sunday, in a sign of sustained strong demand.
Yue Minjun, known for his paintings of absurd, grinning faces, saw his Portrait of the Artist and his Friends fetch $2,62m, his highest price at auction. In a packed Hong Kong auction hall, bursts of spirited bidding — including live online bids — sent works by other top artists to new highs.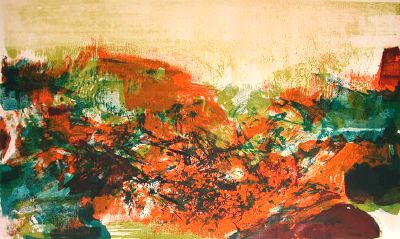 Zao Wou-ki's vivid coloured abstract, 14,12,59, named after the date it was painted, fetched $3,8m — almost five times its pre-auction estimate.
A pair of bronze figures by Taiwan-born sculptor Ju Ming, called Big Sparring, made $1,9m — also a new high for the artist's work at auction.
"There's been no letdown, the (Chinese art) market's still going very strongly," said Jonathan Stone, a Christie's international business director for Asian art.
Chinese art prices have boomed in recent years, fuelled by a robust global economy,
Firstly, a word to Business Day; ending a news article with a comma is highly unprofessional.
Secondly, these prices are astronomical. As Erol was quick to suspect in class, the amount of money being thrown around on Chinese Contemporary Art may signal that the market is in a bubble -- and that this stuff actually isn't worth this much money.
My guess is that that's not the case. There is an ever growing number of people - like that crazed woman who came in to speak with us - who are championing Chinese Contemporary Art in hopes of making it the next big thing in the global art market. But wether it actually becomes the next big thing or not is of no matter, the fact is that the Art in China is getting steadily worked into the global art discourse -- (at the same time, art discourse itself is getting more Global - it goes both ways) -- and through sheer virtue of that, this stuff should atleast hold its value, if not appreciate.